Unpredictable employee schedule changes are no longer acceptable in certain states without paying a price. Employers must be mindful of complying with predictive scheduling laws and the benefits of using online software to prevent noncompliance.
What Is Predictive Scheduling?
Some states have begun to adopt predictive scheduling laws for restaurant and retail employees to impose penalties for employers who change work schedules on short notice.
So How Does It Work?
Employers must provide work schedules at least two weeks in advance, guaranteeing employees a certain base pay should their hours unexpectedly be reduced. It guarantees workers set wages so they can pay their bills and plan for other expenses.
However, predictive scheduling can significantly impact small employers already facing gaps or schedule changes. Using automated software can help you comply with tedious predictive scheduling laws and save you valuable time.
Comply with Predictive Scheduling Using TrackSmart
Let's take a look at the states affected by these laws and how using TrackSmart can help minimize scheduling mishaps.
San Francisco, CA and New York City, NY
Requirements: Hours must be distributed to current part-time workers before new workers are hired.
TrackSmart's Solution: Provides employers with the ability to auto schedule or manually schedule employees to the max of their allotted weekly hours before hiring new ones to pick up the additional hours.
How to Schedule All Part-Time Workers to Their Maximum Hours:
Click on Employees
Click Edit
Set the Max Scheduled Hours/Week

Click on Save Employee button
Click on Settings
Click on Swaps & Open Shifts
Check Box that says "If it will exceed their max hours per week, employee cannot take shift"

Click on Save button
Click on Schedule
Result: Employees are prohibited when trying to take open shifts that exceed their max weekly hours.
Oregon
Requirements: Employers can't retaliate against an employee who requests not to be scheduled on certain days, during certain times or in certain locations.
TrackSmart's 1st Solution: Ability to select which locations an employee can work so they're never scheduled at locations they can't work at (you will be prohibited from scheduling them at those places).
How to Block Certain Employees from Working at Specific Locations:
How to Set up Locations:
Click Settings
Click on Locations & Departments
Add the name and address of each location and press save, you will then be asked if you want to enable all of your employees to work at the location you just added and you can click yes or no.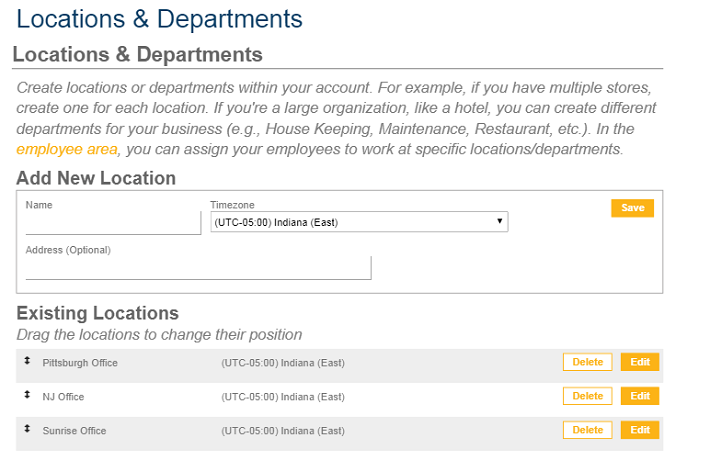 How to Set Up What Locations Employees Can Work at:
Click on Employees
Click Edit
Under "Where Can This Employee Work?" check off the boxes next to the locations they can work
Open the Schedule for each location on the top left-hand corner, where the dropdown is and no employees will be available to schedule unless you check off the box for the location in their settings.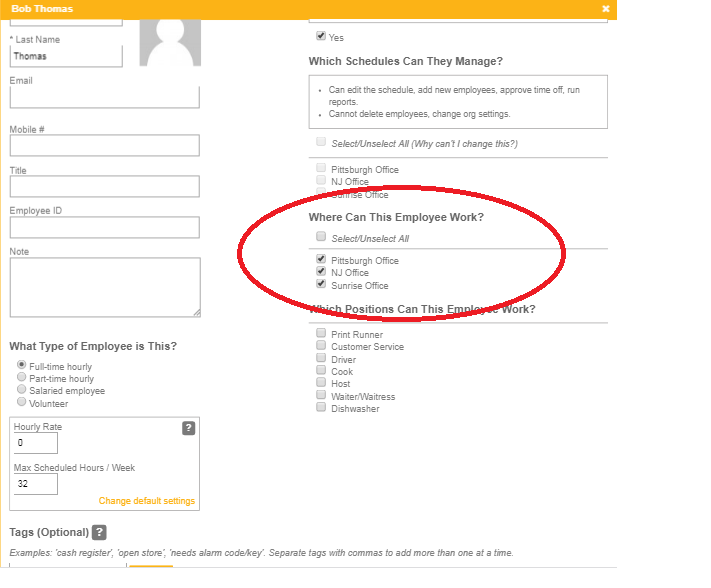 TrackSmart's 2nd Solution: Ability to create recurring time off requests for employees who can't work certain days or times. The employee will automatically not show up as an option for being scheduled on those days.
How to Block Out Specific Days for Employees:
Click Time Off button (on top bar)
Click on the Employee You Are Setting Up the Request For
Click on the day and time they will be unavailable in the recurring request box on the right (it will then appear underneath under "Approved and Pending Days Off")
Return to the calendar and the Employee's name will be crossed out and they will not appear as available on the day/time you try to schedule them that they have approved time off (a message will appear letting you know that they have approved time off and that's why you cannot schedule them on that day unless you click the override button).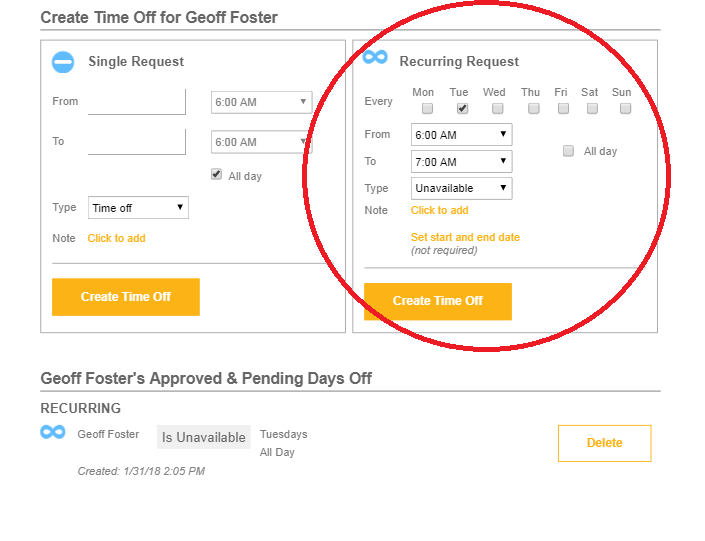 Emeryville, CA
Requirements: An employer must notify employees of schedule changes in person, by phone, email, text message, or some other form of electronic communication.
TrackSmart's Solution: Ability to email and text staff from within the app when shifts are cancelled or changed and the ability to send updated schedules to employees via email through the app.
How to Notify/Contact Employees in TrackSmart:
Email:
Add your employee's emails (and phone numbers) to their profiles
Set up the schedule
Click the publish button
Check the "email schedule to my folks" box.
Text:
Click on Dashboard
Employees scheduled will appear along with their scheduled shifts
Click Text button on the far right, type what you'd like to be texted to the employee (maximum 120 character limit)
Seattle, WA
Requirements: Employers must pay employees extra if they are scheduled to work back-to-back shifts with fewer than 10 hours in between.
TrackSmart's Solution: You can set up so employees cannot take additional shifts or work back to back if they're already scheduled for the same day
How to Set Up Employees So They Can't Work Back to Back or Twice in One Day:
Click on Settings
Click on Swaps & Open Shifts
Check the box that says "If employee is already scheduled for day, do not allow them to take additional shifts"
Click on Save button
Result: When the employee tries to take an open shift on a day they're already scheduled, they will not be permitted.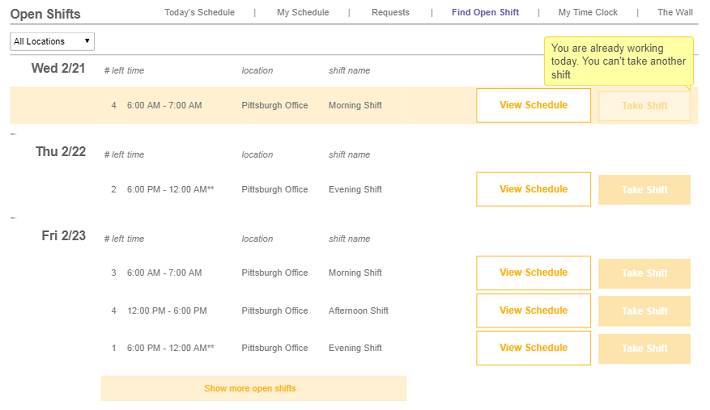 Log into TrackSmart Scheduling now to take advantage of these features and ensure compliance with Predictive Scheduling laws.