To be or not to be:
A Spotlight on Orlando Shakespeare Theater's
Attendance Solution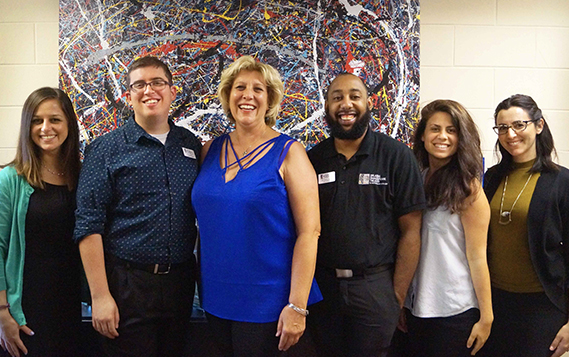 From left to right: Ashley Pinnock, Guest Services; Evan Valle, Box Office Manager; Barbara Muzeni, Director of Finance; Delonte Smith, Guest Services; Lisa Hardt, Development Coordinator; and Lori Weaver, Grants Manager.
Meet Barbara Muzeni:
Barbara Muzeni, Director of Finance & Operations. Before starting at Orlando Shakespeare Theater five years ago, Barbara worked in various financial roles for 30 years. She became a director within her first year at the Orlando Shakespeare Theater – and remains committed to making the business the premiere professional theater in Florida.
Quick Facts:
Orlando Shakespeare Theater is located in Central Florida. The theater partners with the local community and regional Florida schools, such as the University of Central Florida.
The company strives to enrich the community with engaging professional theater, inspiring educational experiences and thought-provoking new plays.
The theater consists of 22 employees regularly (mostly administrative and production staff) and up to 55 employees – including costume designers and actors during high season.
The Challenge:
Before TrackSmart, Barbara would manage attendance using paper time sheets and written time-off requests. When she did payroll, she'd have to track down employee time sheets and ask employees to come in and fill out any information they didn't already submit.
"It was a frustration all around, because not everybody remembered to submit time sheets and nobody wanted a phone call on a Monday morning," says Barbara.
The Solution:
Initially, Orlando Shakespeare Theater only used TrackSmart Attendance to manage PTO. Eventually, they also allowed employees to submit their time sheets. This made payroll an easier process, especially because employees can submit their time sheets and time off requests from anywhere.
"TrackSmart is efficient and helps employees be more organized. They always know how much time off they have because they can look it up themselves," says Barbara.
Barbara now has more time to focus on her role as director of finance and human resources without continually answering employee time-off questions and fixing time sheets.
"TrackSmart has made payroll a cleaner, smoother process than what we had in the past."
– Barbara Muzeni, Director of Finance & Operations
Become the Next TrackSmart Success Story