A Thrilling Scheduling Solution for The Gorge Zipline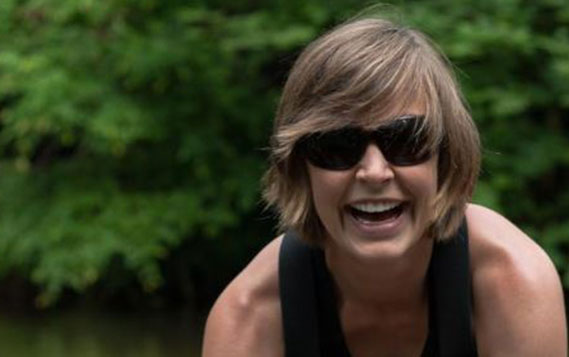 Meet Sara Bell:
Sara Bell, CEO of The Gorge Zipline and Green River Adventures, began working toward a degree in landscape architecture. But she soon realized her passions for kayaking and outdoor adventure were worth pursuing.
After transferring to Brevard College in North Carolina, Sara decided to pursue a degree in wilderness leadership and experiential education and became a whitewater kayak instructor. Now she runs a successful business dedicated to helping people enjoy heart-pumping outdoor activities.
Sara started Green River Adventures in 2006. The company features high adventure activities such as fly fishing, waterfall rapelling and kayak instruction for different skills levels. In 2013, The Gorge Zipline was created, a zipline canopy tour for thrill seekers that is considered the fastest in the country. The zipline has 11 zips, a sky bridge, which acts as a suspension bridge anchored from one treetop to another, three free-fall rappels and a 1,100-foot drop. The course takes an estimated four hours to complete.
Quick Facts:
The Gorge Zipline operates out of North Carolina.
The company's goal is to provide customized and world-class adventures for families and visitors.
The company has 15 full-time employees, commonly referred to as "guides", and up to 75 employees during peak season.
The Challenge:
Sara and her management team used to print out a paper spreadsheet to add up hours and keep track of employee schedules. Doing so made employee scheduling changes messy and time-consuming.
"The nature of someone having to be physically present in the office to see what their schedule is like is unrealistic," Sara says.
Employees would put their schedules in their calendars, but if there were scheduling changes, they wouldn't see them unless they were working. Not having immediate access to the changes frustrated employees.
"When you can't communicate effectively, it hurts the morale in the office," Sara says.
The Solution:
Sara knew her employee base would be growing significantly after the opening of a zipline outpost, offering ziplines to customers. That meant she needed reliable scheduling software to maintain a functional operation. The TrackSmart Scheduling app proved to be a convenient tool, especially because employees can access their schedules from anywhere.
"We have a lot of young people working for us, so having their schedule in the palm of their hands is great," says Sara. "They can submit time-off requests through the app, which takes a huge burden off our managers."
The scheduling app eliminates the need for management to find coverage when shift changes occur. Employees can swap shifts through the app, saving time and resources.
TrackSmart helped to greatly improve organization for The Gorge Zipline and Green River Adventures by streamlining the communication among managers and employees. Rather than bombarding management with time-off requests and shift changes, employees can submit them through the app for management approval.
"TrackSmart Scheduling allows our guides to feel like they're in control," says Sara.
"Our managers are making better decisions because all of the time-off requests and trip schedules are in the same spot."
– Sara Bell, CEO of The Gorge Zipline and Green River Adventures
Become the Next TrackSmart Success Story